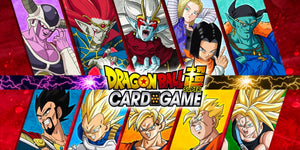 Introducing The Dragon Ball Super Box Buy Promotion For 2022
Bandai has announced a new box buy promotion for the Dragon Ball Super Card Game. This promotion will run until 30th April 2022.
JET Cards can confirm that we are hosting this promotion for our customers, while stock lasts. The sets we currently have included in the box buy promo are:
For every Dragon Ball booster display purchased from the dates listed above, customers will receive 1 x BCLDBSPP7338 - Dragon Ball Super CG: GAMA Promotion Pack and 1 x BCLDBSSS7321 - Dragon Ball Super CG: Store Campaign Sleeves, free of charge.
Here is the latest announcement from the Dragon Ball Super Card Game Facebook page:
Hello DBSCG fans!
To thank you for the support of the Dragon Ball Super Card Game, we have an exciting promotion at participating stores. Buy one sealed Dragon Ball Super Card Game booster box to receive a set of Son Goku sleeves and one BT14-129 SS4 Gogeta, Thwarting the Dark Empire alt-art reprint! This promotion is on a first-come, first-serve basis and may not be available at every retailer. Please contact your store directly for more information. For stores, please contact your distributor directly to see if you are eligible for these promotional items.
Head over to our Home Page to see all the exciting new products we have in stock at JET Cards. Make sure to keep an eye on our social media for any more breaking news and updates!
---