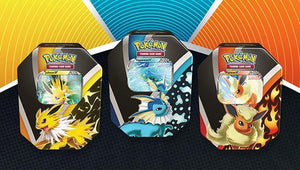 Pokemon Eevee Evolutions Tins - Available To Preorder!
Great news for Eevee fans! Not only will we be treated to a ton of epic Eevee and Eeveelution cards in Evolving Skies, we have been gifted three V tins featuring the original three Eeveelutions!
All three tins are available to preorder with JET Cards now from our Evolving Skies Collection.
Pick the rapid draw power of the Water-type Vaporeon V, the electrifying energy of Lightning-type Jolteon V, or the focused flames of the Fire-type Flareon V in the Pokémon TCG: Eevee Evolutions V Tin! Each of these colourful tins includes a handful of Pokémon TCG treasures, along with a Pokémon who's ready to prove itself in battle! These epic tins are due for release this Fall and will be a great purchase for those looking for a nostalgia kick!
The tins are due to contain the following items:
1 of 3 foll cards featuring a Flareon V, Jolteon V or Vaporeon V
5 Pokemon TCG booster packs
A code card for the Pokemon Trading Card Game Online
Head over to our Home Page to see all the exciting new products we have in stock at JET Cards. Make sure to keep an eye on our social media for any more breaking news and updates!
---