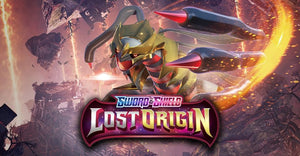 Pokemon SWSH 11 "Lost Origin" Release Date and Leaked Cards!
It has been confirmed that the next Pokemon TCG Set for Sword & Shield will be called Lost Origin and will release internationally on September 9th 2022.
Pokemon SWSH 11: Lost Origin Logo
This release date is interesting and bizarre, as our summer sets have always released in August.
With a September 9th release, prereleases are expected to start on August 26th 2022. This means Lost Origin won't be legal for the Worlds Tournaments, which takes place August 18th through 21st.
Lost Origin is set to feature some exciting new cards, such as Giratina Origin Forme VSTAR, Hisuian Zoroark VSTAR, Enamorus V, and Radiant Gardevoir. It will be based on May's Dark Phantasma and July's Lost Abyss releasing in Japan.
Some of the above cards have already been leaked and you can see what they look like below:
Due to mistake by the Pokemon Center USA, one of the upcoming product images has also been released. The Build & Battle Stadium:
This stadium image clearly shows Giratina as the main feature Pokemon for the set.
Head over to our Home Page to see all the exciting new products we have in stock at JET Cards. Make sure to keep an eye on our social media for any more breaking news and updates!
---