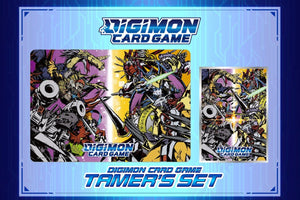 Digimon Tamer's Set PB-02 Is In Stock Now!
We are incredibly excited to announce that we now have the Digimon Tamer's Set - Promo Box-02 in stock. RRP is £45, however we are offering a special price of £39.45. If you would like to order with us you can click the link Here.
This box features 2 exclusive items that will only be available in this box. The set will contain one premium playmat featuring a ton of your favourite digital monsters. The mat features a non-slip backing and a soft fabric topper containing the design and is a perfect surface to keep your cards safe whilst you play. An extra layer of protection is added by the set of sleeves. There are 60 sleeves included which allows for an entire deck containing valuable cards to be protected from damage,
Head over to our Home Page to see all the exciting new products we have in stock at JET Cards. Make sure to keep an eye on our social media for any more breaking news and updates!
---