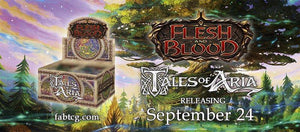 Flesh and Blood - Tales Of Aria Has Been Announced
Legend Story Studios have just officially announced the next set in the Flesh and Blood TCG. The set is called Tales of Aria and takes the story away from Rathe and into new lands including the settlements of Isenloft, Candlehold and Volthaven!
There are two products featured in this set. They are a standalone booster expansion as well as three new Blitz decks. The 1st Edition print of Tales of Aria has an official release date of the 24th September and is designed for sealed deck, booster draft, and constructed format play.
Tales of Aria is not currently listed for preorder with us, however you can expect this set to be available closer to the release date. Once this set is is available to preorder with JET Cards, you will find all the products in our Flesh and Blood collection.
The booster set will be available as individual packs containing 15 cards plus 1 token. Booster boxes will also be available containing 24 packs each. The expansion will be a great purchase for any collector or player.
Tales of Aria will contain a total of 238 cards, divided into the following rarities:
1 Fabled
6 Legendary
27 Majestic
54 Rares
136 Commons
14 Tokens
Each booster pack will contain:
1 Premium Foil (Rainbow Foil or Cold Foil)
2 Rares (1 Rare + 1 Rare or Majestic)
12 Commons
1 Token
Each Blitz deck will contain the following:
40 card pre-constructed deck
hero, weapon, and equipment cards
Head over to our Home Page to see all the exciting new products we have in stock at JET Cards. Make sure to keep an eye on our social media for any more breaking news and updates!
---