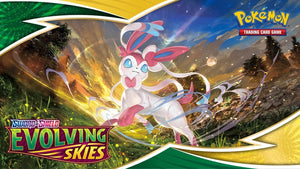 Pokemon Sword & Shield Evolving Skies Products and Preorder
You can now preorder Evolving Skies with JET Cards here.
Pokemon Sword & Shield 7 - Evolving Skies is nearly upon us and is due for official release in the UK on 27/08/21. This set has lots of new and exciting cards for all of you Pokemon fans! In Evolving Skies, Dragon Pokemon make their triumphant return and the Eeveelutions get the star treatment! The set is now confirmed to include cards from the Japanese Eevee heroes set!
Evolving skies will include a ton of new cards based on Eevee, it evolutions and the legendary Rayquaza! Images have been revealed that showcase the awesome pack artwork, alongside the artwork for the Elite Trainer Boxes! As with Chilling Reign and Battle Styles, there are going to be two versions of the ETB, each focusing on four Eeveelutions! One will feature Umbreon, Flareon, Jolteon, and Leafeon whilst the other includes Sylveon, Vaporeon, Glaceon, and Espeon. 
The Evolving Skies expansion is set to include the following:
Over 200 cards
15 Pokémon VMAX
18 Pokémon V
33 full-art Pokémon V
24 Trainer cards
5 full-art Supporter cards
A new Special Energy card
Each Elite Trainer Box will include the following:
8 Pokémon TCG: Sword & Shield—Evolving Skies booster packs
65 card sleeves featuring Eevee's Evolutions
45 Pokémon TCG Energy cards
A player's guide to the Sword & Shield—Evolving Skies expansion
A Pokémon TCG rulebook
6 damage-counter dice
1 competition-legal coin-flip die
2 acrylic condition markers
A collector's box to hold everything, with 4 dividers to keep it
Head over to our Pokemon collections to see all the exciting new products we have in stock at JET Cards. Pre-orders are available by clicking the link at the top of this blog post of by following the links to the Evolving Skies expansion on our main menu. Make sure to keep an eye on our social media for any more breaking news and updates!
---