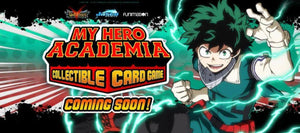 My Hero Academia - Introducing The New Collectable Card Game
JET Cards are delighted to announce that we are stocking the brand new collectable card game, My Hero Academia. This great new CCG based of a popular anime series has been manufactured by Jasco Games, and the first set (Wave 1) releases in December 2021.
You can find our range of My Hero Academia products here.
"In a world populated with superheroes, few are able to make it to the ranks of Pro Hero! We would like to welcome you to U.A. High. Here we will be preparing you to beat power-hungry villains who threaten the peace of our country and world. We urge you to brace yourselves. Each day your quirks will be put to the test. You'll learn who you truly are, and through your experiences, learn what it takes to be a hero. You will develop your own skills and come up with your hero aliases. The League of Villains is on the rise and we cannot let them wreak havoc on the citizens. Let's do everything we can to stop them...and let's do it Plus Ultra!"
In the My Hero Academia CCG, you'll build powerful decks around the students of Class 1-A and the heroes and villains that surround them, battling rivals with an all new collection of cards developed around the characters and quirks of the fan-favorite (okay and our favorite) series.
Featuring an updated card layout and carefully considered design, the My Hero Academia Collectible Card Game will be approachable for new players, introducing them to the depth and strategy of the UniVersus system, while maintaining complete compatibility with previous UFS/UVS releases.
Head over to our Home Page to see all the exciting new products we have in stock at JET Cards. Make sure to keep an eye on our social media for any more breaking news and updates!
---