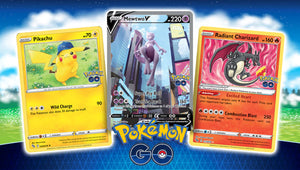 Pokemon GO! Single Cards Are Now Available!
The latest Pokemon TCG Set: Pokemon GO! has now been out since July 1st and we have been able to stock up on lots of amazing single cards!
We still have plenty of sealed products available to buy here.
The set details:
The latest Pokémon TCG expansion draws its inspiration from Pokémon GO with artwork that captures Pokémon in a real-world setting.
Get Up & Go Battle!

Gear up for battle like never before as Pokémon GO meets the Pokémon Trading Card Game! Dragonite VSTAR and Mewtwo VSTAR show off immense powers, while Melmetal VMAX in its Gigantamax form smashes the competition.

Appearing as sought-after Shiny Pokémon, Radiant Venusaur, Radiant Charizard, and Radiant Blastoise bring dazzling new strategies to the battlefield. Meanwhile, the leaders of Team Instinct, Team Mystic, and Team Valor are ready to show their support in the Pokémon TCG: Pokémon GO expansion!
Check out our selection of singles from the set by clicking HERE.
Please note: More single cards will be added to this collection as they become available.
Head over to our Home Page to see all the exciting new products we have in stock at JET Cards. Make sure to keep an eye on our social media for any more breaking news and updates!
---