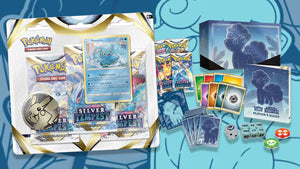 Pokemon "Silver Tempest" Confirmed and Product Images Revealed!
The Pokemon Company International has just revealed the 12th set of the Sword & Shield TCG. The set will be called "Silver Tempest".
We are delighted to be able to share with you some of the product images and the first set information due to them being made publicly available on the Pokemon Center website.
Pokémon VSTAR cards include Lugia VSTAR, Alolan Vulpix VSTAR, Serperior VSTAR, Unown VSTAR, Mawile VSTAR, and Regidrago VSTAR. Regieleki VMAX is also included in the set.
Alolan Vulpix VSTAR, Serperior VSTAR & Mawile VSTAR originate from the Japanese set S11a Incandescent Arcana. The remaining named cards are still unrevealed in Japan and should most likely be included in the next Japanese set S12 Paradigm Trigger.
There are set to be over 190 cards in this set and there will be a Trainer Gallery subset.
Silver Tempest will release in the UK on November 11, 2022.
Argent Adventure & Dazzling Discovery!
An ominous rumble echoes in the distance, and Lugia VSTAR emerges from the ocean's depths to answer its call!
Uncharted territory lies waiting to be explored alongside Alolan Vulpix VSTAR, while Serperior, Unown, and Mawile join the expedition as Pokémon VSTAR, and a legendary battle awaits as Regieleki VMAX and Regidrago VSTAR awaken from slumber.
Discover powerful partnerships in the Trainer Gallery, and set a course for adventure with the Pokémon TCG: Sword & Shield-Silver Tempest expansion!
Head over to our Home Page to see all the exciting new products we have in stock at JET Cards. Make sure to keep an eye on our social media for any more breaking news and updates!
---